Who am I?

Excellent question, and I think I've finally figured out the answer--a writer and teacher.

Most important Education: Lots of travel in foreign countries, drinking in the culture and meeting lots of people.

Careers: I have been a store clerk, a Bollywood movie extra, an art school model, a chambermaid, a barmaid/tender, riding instructor, a theatre arts administrator, a library assistant, and a teacher of various subjects, primarily, music and English. Generally, nothing stops me.

Personal qualities: Fearless. No that's not true. I'm terrified of everything, but just foolish enough to try anything.

Loves: History, horses and dogs, good food and great stories. And of course my wonderful husband.

Faults: Always trying to ignore my creative side. Ongoing struggle to be sensible and normal like the rest of the rat-racing, money making, 9-5 world. I continually fail at this.

More mundane details: I was born in Corner Brook Newfoundland. I have a BA in German Language and Literature, a B.Ed. from Memorial University, an ARTC in voice from the Royal Conservatory of Music, TESL diploma from Acadia University, and various diplomas from a British technical college.

Here's the exciting stuff:
I published For Maids Who Brew and Bake, in 2003 and then released a second edition in 2010.

This book is a historical look at 17th century Newfoundland. With excerpts from old English manuscripts and Newfoundland letters, descriptions of 17th century towns, recipes, and old cures, this book paints a vivid picture of how Newfoundland's earliest settlers might have lived.

In 2004, "Maids" was one of five books from across the country nominated in the special interest category of Cuisine Canada's National Culinary Book Awards.

Rain, Drizzle, and Fog
. This book takes a historical look at the weather in Newfoundland and Labrador, the good, the bad, and the ugly, with early diary entries, newspaper reports/interviews and archival photographs.

New out Fall 2016 - Full Speed Ahead: Errol's Bell Island Adventure


Take a closer look if you like:
For Maids Who Brew and Bake A 17th Century Newfoundland Cookbook Curious cures and delicious recipes from the 17th century are to be found within these pages. With syllabub and loblolly, pottage and spiced bread, this book describes a way of life long gone. It holds collection of interesting and tasty tidbits with everything from dream interpretation to diet tips.
more about ... "For Maids Who Brew and Bake"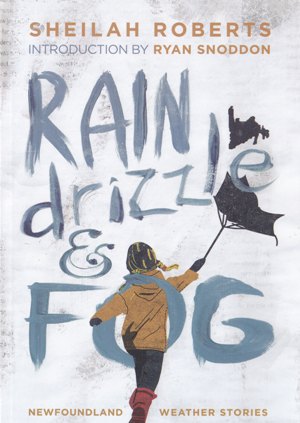 Rain, Drizzle, and Fog
Rain, Drizzle, and Fog: the Joys and Sorrows of Newfoundland weather Newfoundlanders and Labradorians love to talk about the weather. And why wouldn't they? The province is known for its great gales, fierce blizzards, destructive glitter storms, and hurricanes. It's also known for its fast-changing conditions: if you don't like the weather, they say, wait five minutes and it'll change.
more about ... "Rain, Drizzle, and Fog"
Full Speed Ahead: Errol's Bell Island Adventure
Full Speed Ahead: Errol's Bell Island Adventure This is the story of a young mouse named Errol who takes a ride on a ferry and visits the mines of Bell Island. Errol's best friend, Old Rat, has told him wonderful stories, about how the mice and rats first came to Newfoundland as stowaways on the big sailing ships. Errol longs to have his own adventure but his parents are unhappy when he strays to far from their garbage box home. Errol, however, is a mouse on a mission and he decides to go in search of adventure. A tale of narrow escapes and dogged determination, it's "Full Speed Ahead" for our intrepid rodent. Errol's 'Bell Island Adventure' is a 'first chapter book' for ages 7 and up.
more about ... "errolthemouse.htm"